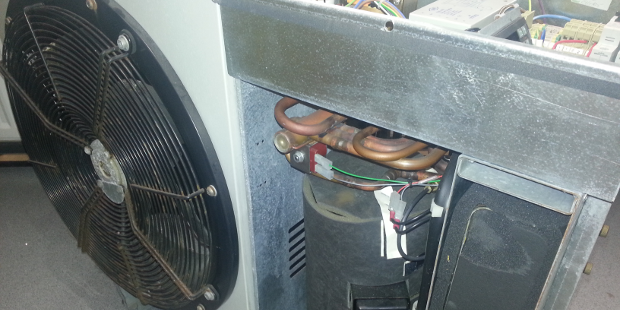 Decerna (NDE) is offering 100% funded accredited heat pump training courses to North East based heating engineers, training them to install and maintain this renewable energy heating system.
NDE is an independent company based in Blyth, Northumberland. The training courses available include the aforementioned installation of heat pumps, heat metering and some of the plumbing prerequisite courses. As well as heat pumps, other courses on offer include solar thermal heating, and photovoltaics.
With the forthcoming increase within the Renewable Heat Incentive, it is expected that there will soon be a skills shortage in qualified heat pump engineers, and this is an ideal time for North East companies to take advantage of funded training to gain a foothold in this new market.
Pete McNaughton, Renewables Sales Manager from Mitsubushi Electric said:
The Air Source Heat Pump industry has never been stronger with the increase in RHI looming along with increased oil prices and public awareness constantly growing. The appetite to be less reliant on fossil fuels and become greener is a big factor in home owners and landlords moving towards Air Source Heat Pumps, even in what traditionally would be classed as "on gas" areas. Financially it makes perfect sense to switch which is seeing the market grow at a healthy rate. The bottleneck to this growth will be trained engineers qualified to install products.
The funding is being provided by the European Social Fund (ESF) and co-financed by the Skills Funding Agency (SFA).
To be eligible, a company must be based in the North East LEP area (Northumberland, County Durham or Tyne & Wear), be a sole trader or SME (under 250 employees and under £40 million turnover), and be undertaking the course for the first time.
Mick Broadbent, Renewable Energy Training Coordinator at NDE explained:
"Due to the nature of the installations, it is a natural progression for a fully qualified Plumbing and Heating Engineer to up-skill in this particular field, as well as gaining a recognised qualification in Heat Pump Installation you have the opportunity to increase workload and enhance your company profile. This can lead to gaining contracts from Local Authorities / and Private investors who require these Renewable technologies installed by Fully Qualified Engineers"
The first course is running on the 13th to 26th June 2017. Courses end on the 28th July
===ends===
*** High resolution photography available on request ***
Contact:
Tom Bradley
tom.bradley@decerna.co.uk
01670 357 685
Notes:
Decerna is an independent renewable energy company, based in Blyth, which was incorporated in 2012. The website is www.decerna.co.uk
The European Social Fund (ESF) is the European Union's main financial instrument for supporting employment in the member states of the European Union.
The courses are:
Installation Courses
Solar PV Installation and Maintenance Training – Logic Level 3 – 4 days
Solar Thermal Installation & Maintenance Training – Logic Level 3 – 4 days
Heat Pumps Installation & Maintenance Training – Logic Level 3 – 4 days
Principles of Metering for Renewable Heat Systems – Logic Level 2 – 1 day
Prerequisite Courses
Water Regulations Training Course (WRAS 1999) – 1 day
Energy Efficiency for Gas & Oil Fired DHW & Heating Training – Logic Level 3 – 1 day
Hot Water Systems & Safety (Incl. Unvented hot water) – 1 day
General Courses
Fundamental Principles of Environmental Technology Systems – Logic Level 3 – 1 day